Fresh Paneer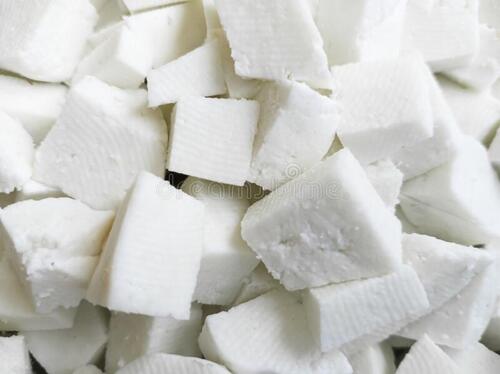 Fresh Paneer
Price And Quantity
Kilograms/Kilograms

250.00 - 450.00 INR
Product Specifications
Product Description
Indian cottage cheese, or fresh paneer, is a soft, young cheese that is frequently used in Indian cooking. It is created by separating the curds from the whey by curdling milk with lemon juice, vinegar, or another food-grade acid. After being pressed and strained to eliminate extra moisture, the resulting curds become a firm, crumbly cheese.
The following are some salient features and applications of fresh paneer:
1. Paneer that is still fresh has a crumbly, mushy feel. It is not aged or matured like other cheeses, which keeps it solid and prevents it from melting quickly when heated. Its texture makes it suitable for a variety of cuisines and cooking styles.
2. Mild Flavour: The flavour of paneer is mild and somewhat acidic. It is adaptable and excellent for absorbing the flavours of the spices and condiments used in Indian cooking because it doesn't have a strong or unique taste on its own.
3. Source of Vegetarian Protein: Paneer is a well-liked vegetarian protein in Indian food. It offers crucial amino acids and is high in casein protein. It is frequently used as a meat substitute or a protein-rich item in vegetarian and vegan diets.
4. Cooking Flexibility: A variety of meals can be made with fresh paneer. It can be chopped up and used in vegetable recipes, stir-fries, and curries. Additionally, it can be crushed and added to salads or used as a stuffing for Indian flatbreads called parathas. Paneer can be skewered for kebabs, marinated and grilled, or used as a filling for savoury pastries.
5. A good source of calcium, protein, and other elements like phosphorus and vitamin B12, paneer has a high nutritional profile. In comparison to many other cheeses, it has a comparatively low-fat content. However, depending on the manner of preparation and the kind of milk used, the nutritional value may change.
6. Both homemade and store-bought paneer can be prepared by curdling milk with vinegar or lemon juice. Additionally, it is available pre-packaged at grocery stores and speciality Indian markets. When compared to homemade paneer, store-bought paneer could have a somewhat different texture and flavour.
Fresh paneer is a flexible ingredient that may be used in a variety of traditional Indian recipes, including matar paneer, palak paneer, paneer tikka, and paneer butter masala. It is frequently preferred due to its high protein content, moderate flavour, and capacity to take on the flavours and spices of recipes.
It's crucial to examine the paneer's quality and freshness before purchasing. It shouldn't be excessively dry or crumbly, and it should have a fresh scent. To preserve its freshness and stop spoiling, proper refrigeration is required.
Overall, fresh paneer is a beloved component of Indian cooking that adds a delicious texture and flavour to a variety of recipes while also serving as a source of protein.
FAQ
1. What is freshly made paneer?
Ans - A type of cheese created from curdled whole milk is called fresh paneer. It has a light, milky flavour and a delicate, crumbly texture.
2. How should fresh paneer be stored?
Ans - Fresh paneer can be kept in the fridge for up to a week by being carefully wrapped in plastic wrap.
3. How are fresh paneer dishes prepared?
Ans - Like the majority of other cheeses, fresh paneer can be cooked. It can be roasted, fried, or grilled and crumbled into salads, stews, and curries.
4. What dishes can be prepared using fresh paneer?
Ans - Pizza, quesadillas, sandwiches, paneer tikka masala, and palak paneer are just a few examples of the many dishes that may be made using fresh paneer.
5. How nutritious is fresh paneer?
Ans - Fresh paneer is a fantastic source of calcium, protein, and other minerals. However, due to its high calorie and fat content, it should only be consumed occasionally.
Trade Information
Cash Advance (CA) Cash in Advance (CID)

200 Per Day
2 Days

Sample costs shipping and taxes has to be paid by the buyer